A Little Christmas Queer is the 9th episode of the eighth season and 179th overall.
Synopsis
While spending the holidays at Will's mother Marilyn's house,
Grace
gets cozy with Will's brother and old flame
Sam
. Sam's adopted daughter finds a fan in
Karen
, who is intrigued by the little girl. Meanwhile, Jack helps Will's clearly gay ten-year-old nephew
Jordy
organize and perform a Christmas show, which Marilyn is thrilled about. Will is silently fuming, however, as Marilyn is much more tolerant of the young boy than she ever was of her own son.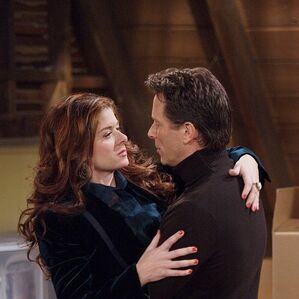 Cast
Main
Guest
Notes
Will's oldest brother, Sam Truman, was last seen in the episodes "Big Brother is Coming (Part 1)" and "Big Brother is Coming (Part 2)". John Slattery played Sam in the previous episodes, but was unavailable for this appearance and was replaced with Steven Weber.
After announcing that he was divorcing his wife Ginny 7 years ago, Sam's divorce has just become final.
Kyla Dang was credited as "Courtney," but was called Casey in the actual episode.
Cultural References
Jordy is referenced to be a fan of the musical Rent, making his father listen to the soundtrack for the entire car ride over.
Jordy's Christmas show featured holiday-themed renditions of "All That Jazz" and "Mr. Cellophane" from Chicago.
Will used to wear "Mork & Mindy" suspenders.
Media
Quotes
I'm starting to dread Christmas at the Trumans. Every time someone says "Merry Christmas," your mother looks at me with pity and says, "And Hanukkah." — Grace
| | |
| --- | --- |
| Jordy: | Don't you think the tree is T-Acky? |
| Jack: | She should have gone monochromatic. |
| Jordy: | E-X-Actly. |
| Jack: | Yeah, you wanna pick your spots with that. |
| | |
| --- | --- |
| Grace: | Has anyone seen Sam? |
| Karen: | Did you check down your pants? |
She's adopted. But I like her as if she were real. — Marilyn, about Casey
Ad blocker interference detected!
Wikia is a free-to-use site that makes money from advertising. We have a modified experience for viewers using ad blockers

Wikia is not accessible if you've made further modifications. Remove the custom ad blocker rule(s) and the page will load as expected.