Cop To It is the 13th episode of the eighth season and 183rd overall.
Synopsis
Will and Grace dread a dinner date with married friends Rob and Ellen who likely called the meeting to announce Ellen is pregnant yet again, but when the couple reveals that they are separated and loving it, Grace gets depressed.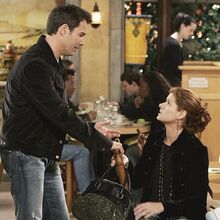 She's quickly distracted however when Will's cop ex-boyfriend, Vince, approaches their table as their server. Ignoring Rob and Ellen's big news, Will and Grace discuss how Vince must have gone off the deep end after splitting with Will, and Vince's request to switch table assignments seems to confirm their thoughts. Elsewhere, Jack decides he needs to spice up "Jack Talk" by pulling an Oprah and helping his fan, Tommy Shields, come out of the closet. Jack and Karen setup a bowling alley meeting with Tommy when Karen is recruited to join a woman's league game as an emergency fill-in.
Cast
Main
Guest
Andy Umberger (Captain)
Casey Williams (Jean)
Heather McPhaul (Rhonda)
Kyle Bornheimer (Waiter)
Trisha Simmons (Woman)
Zach Bostrom (Josh)
Matt Huhn (Man)
Quotes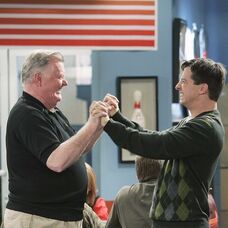 | | |
| --- | --- |
| Tommy: | I'm gay! |
| Josh: | Oh, my God. Dad, you're gay? |
| Tommy: | Yes, Josh. And where did you get that beer? |
| Jack: | Wow. Two after school specials in one. |
—

helping Tommy come out
Ad blocker interference detected!
Wikia is a free-to-use site that makes money from advertising. We have a modified experience for viewers using ad blockers

Wikia is not accessible if you've made further modifications. Remove the custom ad blocker rule(s) and the page will load as expected.