Crazy in Love is the 13th episode of the third season and the 59th episode overall.
Will tries his hand in sports to impress Matt, a sportscaster. After Grace agrees to decorate Jack's apartment, he and Karen find out Grace might be a psychopath.
Synopsis
Sporty Will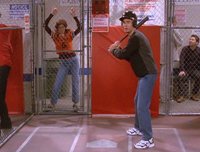 Will finally calls Matt, a sportscaster working on television. After learning that Matt broke up with his previous boyfriend because he was not interested in sports, Will realizes he needs to learn or at least pretend to be interested in sports such as baseball. Grace helps him train at the batting cages but his training proves useless when Matt invites him to basketball instead. Later, Will admits that he really does not follow sports and Matt admits that he broke up with his boyfriend because they were "just different". The two promise to be honest with each other.
Psycho Grace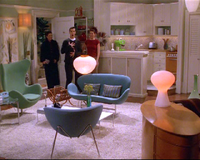 Things get frustrating when Karen hires Grace to decorate Jack's new apartment because of his expensive taste and limited budget. As Grace storms out, she leaves behind her daily planner where Jack and Karen find the letter diagnosing Grace with
borderline personality disorder
which she had written to get out of jury duty.
Jack and Karen, afraid of an aggressive outburst, complies with all of Grace's plans for the design and she finishes the apartment. When Grace finally admits that the letter was fake, the two do not believe her thinking she is still making up delusions, and run away from her.
Cast
Main
Guest
Murphy Dylan Devine (Boy)
Notes
Cultural references
Media
Quotes
My mother's crazy. That's why I had her committed. Well, she's not crazy so much as she just bugged me. She's a bitch. — Karen
I'm allowed to watch sports, ok? 'Cause I'm a guy. That's what guys do. Now get me a beer. Who am I kidding? I want a spritzer. I'll never pull this off. — Will, pretending to like sports
| | |
| --- | --- |
| Will: | I told Matt that I'm sports nut, that I love watching sports, that I particularly love playing baseball, and that I'm really good at it. |
| Grace: | How quick can you get out of town? |
| | |
| --- | --- |
| Matt: | Hi, Grace. Do you ever not look gorgeous? |
| Grace: | God... Ten years ago, I would have wasted so much time liking you. |
Ad blocker interference detected!
Wikia is a free-to-use site that makes money from advertising. We have a modified experience for viewers using ad blockers

Wikia is not accessible if you've made further modifications. Remove the custom ad blocker rule(s) and the page will load as expected.