Crazy in Love is the twelfth episode of the third season and the fifty-seventh episode overall.
Will tries his hand in sports to impress Matt, a sportscaster. After Grace agrees to decorate Jack's apartment, he and Karen find out Grace might be a psychopath.
Synopsis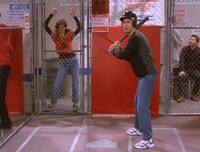 Will finally works up the chutzpah to call Matt, whom he met at Banana Republic. Though Will strikes out when he tries impersonating a sports fan for Matt's benefit, sparks still fly between the two. Meanwhile, Grace busies herself redecorating Jack's apartment; and Jack and Karen are convinced that Grace is a psycho.
Cast
Main
Guest
Murphy Dylan Devine (Boy)
Notes
Cultural references
Media
Quotes
My mother's crazy. That's why I had her committed. Well, she's not crazy so much as she just bugged me. She's a bitch. — Karen
I'm allowed to watch sports, ok? 'Cause I'm a guy. That's what guys do. Now get me a beer. Who am I kidding? I want a spritzer. I'll never pull this off. — Will, pretending to like sports
Oh, my God! I've changed my mind. My dream home is no longer Jeannie's bottle. It's this. — Jack, seeing his newly decorated apartment
| | |
| --- | --- |
| Will: | I told Matt that I'm sports nut, that I love watching sports, that I particularly love playing baseball, and that I'm really good at it. |
| Grace: | How quick can you get out of town? |
—
| | |
| --- | --- |
| Matt: | Hi, Grace. Do you ever not look gorgeous? |
| Grace: | God... Ten years ago, I would have wasted so much time liking you. |
—
Ad blocker interference detected!
Wikia is a free-to-use site that makes money from advertising. We have a modified experience for viewers using ad blockers

Wikia is not accessible if you've made further modifications. Remove the custom ad blocker rule(s) and the page will load as expected.