Elliot is Jack and Bonnie's son.
Biography
When Jack was 17, he donated sperm to the sperm clinic to buy a leather coat.[1] A nurse at the clinic, Bonnie used his sperm and Elliot was conceived via in vitro fertilization. Elliot was raised alone by Bonnie and when he was 13, he went to Jack to introduce himself.[2]
Elliot has a friendly personality, being described by Will as "nice, sweet and kind". Karen notes that he is "honest has no agenda, and not manipulative" and a "goody two shoes" (which is why she doesn't like him.) [3] Despite his easy-going nature, he is shown to have a devious side, mentioning that he once cheated on a test [4] and that he makes crank phone calls.
He has an interest in sports, although it is noted that he lacks talent in soccer, baseball and cheerleading.
Season 3
Jack first meets Elliot in the Season 3 finale, Sons and Lovers. Jack is reluctant to get to know Elliot, but, still upset about never knowing his father, realizes that he wants to have a relationship with him.[5]
Season 4
Elliott appeared most prominently in the fourth season. He continues to bond with Jack, who tries to help him with various things like shopping for school clothes [6] giving him advice about girls. He also bonds with Will and Grace, even taking the latter to the prom when he doesn't have a date. [7] He doesn't like Karen at first, but they bond over crank phone calls.
He meets Daniel McFarland, and gets along well with him due to their mutual interest in sports (much to Jack's chagrin, due to him never being close with his stepfather.) [4] Under Jack's influence, he dyes his hair blond which irks Elliot's mother, Bonnie. [8]
When the gang are discussing insemination, Elliot is asked to leave the room, until it is apparent that Elliott, being a product of vitro fertilization, knows more than anyone else and has to explain it to them.
Season 5
Elliot appears in the fifth season only once, in Field of Queens, in which he is disheartened by his lack of soccer skills. Will tells him he should stick with it, despite sucking, even though he chickens out at his own game.[9]
Season 6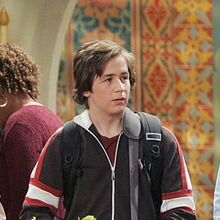 Elliot tries out for cheerleading, although it is revealed that he has no interest in it, wanting only to have a reason to spend time with Jack. [10]
Season 8
Elliot's last appearance is in "I Love L. Gay", in which he is checking out potential colleges. Jack disciplines Elliot for staying out too late and partying, and angering him and telling Jack that he's not his father, and that "all he did was donate sperm." They eventually make up, with Elliot admitting he does see Jack as a father. [11]
Notes
Elliot's last name is never mentioned. Though it may have be the same as Bonnie's.
Quotes
You're weird. You're a weird woman. And you kinda look like the demon who guards the tomb in "Tomb Raider." — to Karen, Star-Spangled Banter
No, Marlo. Why would I be kidding about that? Phil is my father. And I wouldn't be calling you except that he stopped making his child-support payments, and my mom can't raise me on just a stripper's salary. — crank calling Marlo Thomas
These guys, they wanted me to go to the ATM to get money so we can get beer, and uh.... After I gave it to them, they just drove off, laughing and flipping me off. I'm starting to think I got ditched. — I Love L. Gay
References
Ad blocker interference detected!
Wikia is a free-to-use site that makes money from advertising. We have a modified experience for viewers using ad blockers

Wikia is not accessible if you've made further modifications. Remove the custom ad blocker rule(s) and the page will load as expected.