Fred Astaire and Ginger Chicken is the twentieth episode of the sixth season and 136th overall.
The episode features the first time Grace meets Vince. Debra Messing is heavily pregnant at the time of filming that she had to wear a poncho to cover her bump.
Synopsis
Meeting Vince
Everyone is worried that Grace has not met Vince yet, whom Will started dating recently. Will expresses how co-dependent his relationship with Grace is that he needs her approval to know whether or not he likes somebody.
When Vince finally comes over, Grace seems aloof and goes to her home in Brooklyn before dinner. Will, who is troubled that she walked out on a free meal, asks her and she confesses how seeing the two of them together "happy and gay" made her worried that she and Leo may never be like that again.
Replacing Karen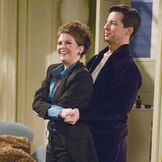 As Jack teaches Karen how to foxtrot for her wedding reception, she informs him that their friendship will soon be over because she will be with
Lyle
all the time. Karen warns Jack that all relationships between a gay man and a straight woman must end or else they will end up like Will and Grace.
Jack holds an audition for a new Karen and hires Phyllis. Karen, however sees how happy he is with her replacement and demands that they remain together even after her wedding.
In the final scene, Jack and Karen gracefully dance from his apartment to the elevator.
Cast
Main
Eric McCormack (Will Truman)
Debra Messing (Grace Adler)
Sean Hayes (Jack McFarland)
Megan Mullally (Karen Walker)
Guest
Adrienne Alitowski (Woman)
Notes
The episode aired on April Fools' Day 2004, hence the jokes in the first scene.
Vince's obsession with his hair is referenced.
Will mentions that Grace missed her SATs to wait for the warm donuts at Winchell's. Also that she hates the word "panties".
Debra Messing is heavily pregnant at the time of filming that she had to wear a poncho to cover her bump.
Cultural references
Will saw the 2004 Broadway revival of the musical Fiddler on the Roof with Vince.
Jack claims that his grandfather was one of the first ballerinas to land on the beach at Normandy on D-Day, which he humorously says stands for "Dance Day".
Jack plans on renaming Phyllis as movie actress Angie Dickinson or Dicky Angenson.
Quotes
Wilma, I saw you and your new boyfriend last night at the theater. Between the Jews on stage and the homos in the audience, it was like paying 100 bucks to hang out here. — Karen, The theater and Will and Grace's apartment
Some people were born to dance. You were born to drink. — Jack
Every healthy relationship between a gay man and a straight woman has a sell-by date. Do you really want to end up like Will and Grace? — Karen, Ending her relationship with Jack
...just the thought of another woman spanking your fruity booty in a platonic fashion sickens me. [...] That heinie's miney! — Karen, Jealous of Phyllis
References
Ad blocker interference detected!
Wikia is a free-to-use site that makes money from advertising. We have a modified experience for viewers using ad blockers

Wikia is not accessible if you've made further modifications. Remove the custom ad blocker rule(s) and the page will load as expected.