Friends with Benefits is the 23rd episode of the seventh season and 169th overall.
The episode features a different story line for each main character: Will begins his career outside law and starts working for Malcolm; Grace reconnects with a boyfriend from college who is now married; Karen is asked by Beverly Leslie to apologize for insinuating he is gay; and Jack becomes a producer for a show on Out TV.
Synopsis
Will as a writer
After quitting his job as a corporate lawyer, Will goes to the park to start writing. He meets a mysterious man named Malcolm who takes interest in his essay and promises to send it to his connections in The New York Times. They strangely meet again at Karen's benefit where Malcolm tells Will they have rejected his work. After Will mentions he used to be a lawyer, Malcolm tells him he is looking for someone to represent his charitable organization and hires Will.
Grace and Tom and Viv
Tom Cassidy, Grace's ex-boyfriend whom she assumes wants to reconnect after hearing about her divorce, drops by her office. She finds out that he is married to Viv and wants to hire her to design a hotel the couple had bought. Karen invites Tom and his wife to her benefit. Viv, however leaves early and as Tom and Grace say goodbye, he tries to kiss her on the lips. Grace is shocked and leaves.
Karen's Benefit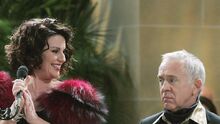 Beverly Leslie comes in Grace's office and demands an apology from Karen for "insinuating" he is a homosexual in front of the Republic Party. Karen agrees to publicly apologize during her benefit for the Stanley Walker Foundation. She however sets him up and he ends up accidentally announcing "I'm a homosexual" on the microphone.
Jack's show
Jack is assigned as producer of a talk show with former child star Randall Finn as host. Randall however proves to be difficult to work with and Jack ends up slapping him at Karen's benefit. Randall immediately quits and the executives at Out TV assign Jack as the new host.
Cast
Main Cast
Guest
Notes
The episode was submitted for consideration at the 2005 Primetime Emmy Awards by cinematographer Tony Askins for his nomination for Outstanding Cinematography for a Multi-Camera Series, and by Peter Damski, Kathy Oldham & Craig Porter for their nomination for Outstanding Multi-Camera Sound Mixing for a Series or Special (with Kiss and Tell)
Cultural references
Quotes
My treat. Anyone who's slept with Grace deserves a free meal. — Karen, inviting Tom to her benefit
I quit my job as a lawyer to help people. And I'm not gonna let a few rejections get in my way. — Will
| | |
| --- | --- |
| Jack: | I'm gonna be a producer of a talk show. I'm gonna be a household name! |
| Will: | Wow, just like that guy who produces "Oprah" whose name I can't remember is a household name. |
—

Jack's news
"Pitch". That's industry speak for when people get so excited about an idea, they pitch a tent in their pants. — Jack