Grace in the Hole is the 14th episode of the fourth season and 85th overall.
Grace reconnects with an old crush and finds out that he is a convicted felon. Rosario challenges Jack and Karen to spend three nights as prisoners at the maids' quarters.
Synopsis
Rosanna
While visiting Stan in prison, Grace bumps into an old crush from high school named Glenn Gabriel. They flirt and he woos her by saying that he also had a crush on her and that whenever his band from high school sang Toto's Rosanna, he was really singing it to Grace. After she gives him her number, she finds out he is a prisoner.
With Grace's help, Will serves as Glenn's attorney at his trial. Grace then finds out that Glenn is seeing other women while in prison, saying to them the same things he had said to her.
Rosario's prison challenge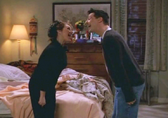 When Karen dismisses the idea of visiting her husband in prison, Rosario challenges her and Jack that if they could not stand three days as "prisoners" in her bedroom, Karen must visit Stan in prison everyday for a month.
The challenge gets frustrating for Karen and two hours before winning, she concedes, finally concerned at how things must be for Stan in an actual prison.
Cast
Main
Guest
Brent Sexton (Guard)
Cheryl Bricker (Sheila Slovinski)
Steven Shaw (Judge)
Notes
Cultural references
Quotes
| | |
| --- | --- |
| Grace: | In high school, he was so weird and cool. He was in a Jewish gang. |
| Will: | What is that, exactly? They drive by and slash your credit rating? |
—

about Glenn
| | |
| --- | --- |
| Grace: | He's not a convict. He is just some guy who did some white collar real estate thing and needs to be behind bars for a little while until he learns his lesson. |
| Will: | Oh. Hey, he wouldn't happen to have a brother who's not gay but likes to have sex with men, does he? |
—

on Glenn's case
Thanks to you, we missed our show. What if Martha Stewart was nice today? — Jack
| | |
| --- | --- |
| Grace: | I hate men. |
| Will: | Good. More for me. |
I feel like an animal caught in a trap! Oh, now I miss my coats, damn it. — Karen
Ad blocker interference detected!
Wikia is a free-to-use site that makes money from advertising. We have a modified experience for viewers using ad blockers

Wikia is not accessible if you've made further modifications. Remove the custom ad blocker rule(s) and the page will load as expected.