Hocus Focus is the 24th episode of the fourth season and 95th overall. Will and Grace's idea of conceiving a child and starting a family starts in this episode and continues until the next season.
Will and Grace get their family portrait taken by eccentric photographer Fannie Lieber. Jack enlists Karen's help as his assistant on a magic show act.
Synopsis
Puff the Magic Drag Queen
After getting a free photo session with famed celebrity photographer Fannie Lieber, Will chooses Grace to appear with him for a family portrait. However, their photo comes out in favor of Grace, who looks gorgeous in the photograph while Will looks like "an angry foreigner". They ask Fannie to photograph them one more time and the resulting photo comes out with Grace looking "puffy and mannish", while Will looks stunning.
They go back to Fannie again asking for another re-shoot but the photographer dismisses them, telling them to get a life, "have a baby or something". Will and Grace laugh at the idea but in a moment of clarity realize they actually do want to start a family together. They look at each other and Fannie takes the perfect photograph.
That Old Jack Magic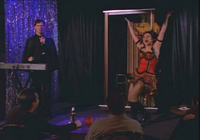 Jack has decided to do magic to revitalize his cabaret act so he asks Karen to be his assistant. During the show, Karen performs an unscripted skit and Jack, who had planned everything from "the arch in my eye, to the limp in my wrist" becomes mad at her for doing more than assisting him.
On their next show, Karen disappears from the box as part of the act and does not reappear like she is supposed to and Jack is left to finish the show on his own. Afterwards, Jack is convinced she has turned into a rabbit so he apologizes to the rabbit.
Cast
Main Cast
Guest
J.P. Manoux (Minion)
Jeremy Forte (Angry Man)
Jason Stuart (Stuart)
Notes
Karen makes another reference to her lesbian experience while attending Sarah Lawrence College. The school became co-ed in 1968.
According to Glenn Close, her kiss with Grace was a spontaneous move to get a reaction out of the audience.[1]
Cultural references
The character Fannie Lieber is a parody of celebrated photographer Annie Leibovitz.
Jack's show "That Old Jack Magic" is a play on the classic jazz song That Old Black Magic (1942). Karen who is fond of drinking, refers to it as "That Old Jack Daniel's", after the whiskey brand.
Media
Quotes
You guys won the gay auction, huh? Good for you.
I love fags. I married three of 'em. — Fannie Lieber
| | |
| --- | --- |
| Fannie: | Oh, you're Jewish. |
| Grace: | How could you tell that? |
| Fannie: | Cheap underwear. It's okay. I love the Jews. I married three of 'em. |
| | |
| --- | --- |
| Will: | I'm not crazy about my forehead. Is there any angle you could shoot me from to kinda minimize that? |
| Fannie: | You know, I'm not in the business of minimizing foreheads. I'm in the business of maximizing truth. You have a big forehead, and that's the truth! |
—

before planting a big kiss on Will
| | |
| --- | --- |
| Fannie: | Damn it! Why am I such a sucker for a gay guy who begs? |
| Grace: | The story of my life, sister. |
| | |
| --- | --- |
| Jack: | This weekend, my new show opens at the Duplex, and this year, I'm giving my fans something I know they're dying for. |
| Grace: | Their money back? |
| | |
| --- | --- |
| Jack: | Now for my next trick, I will ask my lovely assistant to step inside the magic box. |
| Karen: | Uh-oh, I might be a little rusty. I haven't done that since my junior year at Sarah Lawrence. |
I was just watching a special: "The Ten Greatest Bathrooms in the World." They were just about to do number two. That sounded bad. — Grace, accidental poop joke
I look all puffy and mannish. I'm like Puff, the magic drag queen. — Grace, On her picture
| | |
| --- | --- |
| Fannie: | How'd you like the picture? |
| Grace: | I loved it. |
| Fannie: | You loved it. |
| Grace: | I loved it. |
| Fannie: | You loved it. |
| Grace: | I loved it. |
| Fannie: | Did you love it? |
| Will: | I didn't love it. |
| Fannie: | You didn't love it. |
| Will: | Didn't love it. |
| Fannie: | You just lost a dry hump, buddy. |
Cite error: <ref> tags exist, but no <references/> tag was found