Husbands and Trophy Wives is the 3rd episode of the third season and the 49th episode overall.
Synopsis
Will and Jack can't wait to arrive at the house of two old friends who are known for their wild parties but they discover that the former party animals are now sedately raising an adopted baby girl and Will shocks Jack when he volunteers to test his shaky parenting skills by babysitting her for them.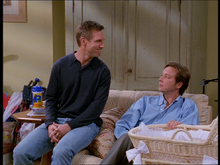 Elsewhere at a snooty yacht club, Grace believes that Karen is jealous of her romantic relationship with Ben but then later regrets taunting her.
Cast
Main
Guest
Gregory Hines (Ben Doucette)
Jerry Levine (Joe)
Richard Livingston (Bartender)
Christopher Randolph (Man)
Yvans Jourdain (Jon)
Notes
The episode's title is a reference to the 1992 movie, Husbands and Wives.
Quotes
We still have our Friday night movie club. We sit in the back row, and every time straight people kiss, we hiss. — Jack
Ad blocker interference detected!
Wikia is a free-to-use site that makes money from advertising. We have a modified experience for viewers using ad blockers

Wikia is not accessible if you've made further modifications. Remove the custom ad blocker rule(s) and the page will load as expected.