I Love L. Gay is the 14th episode of the eighth season and 184th overall.
Synopsis
Will, Karen, and a star-struck Grace travel to Los Angeles to support Jack as he accompanies Elliot to tour the UCLA campus.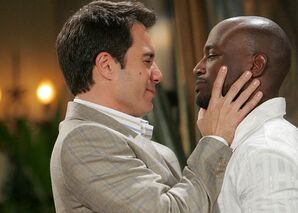 Coincidentally, Will runs into James while in LA, but to his surprise James is Canadian and in jeopardy of being deported. After spending a perfect weekend together, Will and James find that they don't have to say good-bye to each other again when Grace makes a special proposal.
Cast
Main
Guest
Christopher Shea (Waiter)
Steve Hasley (Clerk)
Joan Poust (Woman)
Notes
Grace asks James to marry her so that he can stay in the U.S. In addition to being Canadian, we learn that he is a photographer and his last name is Hanson.
Jack's ring tone is "Ring My Bell", by Anita Ward.
Quotes
| | |
| --- | --- |
| Woman: | Excuse me. Are you-- |
| Grace: | Nicole Kidman? No. |
| Woman: | I was going to say Kathy Griffin. |
| Grace: | I'll take it. |
—

in L.A
| | |
| --- | --- |
| Grace: | Elliot, you must be so excited. I can't believe you might be going to UCLA. I just seems like yesterday you were playing with a GI Joe doll and spilling your juice box on our rug. |
| Elliot: | That was yesterday. And it was Jack. |
—

in L.A
| | |
| --- | --- |
| Elliot: | It's so cool of you and Will to come check out UCLA with us. |
| Will: | Of course, Elliot. I mean, we wouldn't miss it. You're family. |
| Elliot: | You wanna come next month when we check out University of Kansas? |
| Will: | Oh, God no. What celebrities live there? |
—

in L.A
Well, it's hard. It's a very complicated relationship between a sperm donor dad and the child of a lesbian who shows up on his door thirteen years later. There's really only one book about it. And not a lot of stores carry Yank, Squirt, Doink, Dyke, Baby. — Jack
| | |
| --- | --- |
| Will: | I just realized I do know your work. You took that photograph, that amazing shot of Kate Moss in the dumpster with the lettuce leaf on her head. That was genius. |
| James: | I can't take credit. I found her like that. |