I Second That Emotion is the 2nd episode of the eighth season and 172nd overall.
Will helps Karen with her bottled emotions. Grace unexpectedly becomes Jack's guest for his talk show.
Synopsis
Will makes it his own personal mission to emotionally heal Karen when he suspects that she is more upset about Stanley being alive than she's actually letting on.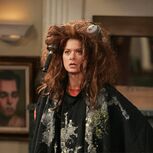 Surprisingly for him, he discovers a few areas where he needs some healing of his own. Meanwhile, Grace becomes the target of rage from gay men all over New York when her comments on Jack's talk show are misconstrued during editing.
Cast
Main
Guest
Notes
Cultural references
Quotes
| | |
| --- | --- |
| Will: | Okay, look at this picture. If you look at it closely, I swear you can see Katie Holmes mouthing, "Help me." |
| Grace: | Please. She made her own twin beds. |
—

reading a magazine
Shame on you! Bad queens! Bad queens. Do you even know who you're booing? I have been devoted to you for decades. When I was a little girl, I showed you mine when you showed me yours. Even though you didn't care. When I was in high school, I showed you mine when you showed me yours, even though you didn't care. And when I was in my twenties, I slept with you, even though you still didn't care. And now, you sneer at me at the Chelsea Market, and you-- you throw macaroni salad at me on Christopher Street? And it's so not fair, because I love you people! I have always loved you in a very unhealthy way. For my own personal development, so now love me back, dammit! — Grace
| | |
| --- | --- |
| Will: | I've had tons of successful relationships! |
| Karen: | That all ended. |
| Will: | Successfully! |
References
↑ (June 7, 2005) "Russell Crowe Accused of Assault With Hotel Phone" The NY Times