James Hanson is a man who Will meets in Season 8. He later becomes his love interest.
Biography
James is a Canadian photographer. He has a witty, dry sense of humor. Although he initially appears to have a warm personality, it is later revealed in Grace Expectations that he is cruel and manipulative.[1]
Relationship with Will
James meets Will in the episode Von Trapped at a screening for Memoirs of a Geisha (which Will mistook for a The Sound of Music sing-along).[2] The two hit it off, but don't see each other again until a chance encounter in Los Angeles. They fall for each other, so Grace agrees to marry James to prevent him getting deported and let him pursue a relationship with Will.[3]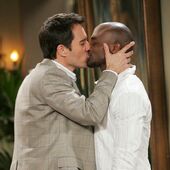 Grace and James successfully marry in The Definition of Marriage. During the wedding ceremony, James serenades Will with the Steve Wonder song, As, although he later admits he was high on one of Karen's drugs and does not recall the event or even know the lyrics to the song.[4]
In the subsequent episode Grace Expectations Will discovers that James acted cruelly towards a disabled nurse and abandoned his handicapped boyfriend, and their relationship sours and as a result the marriage is quickly annulled.[1]
Trivia
There is "serious alcoholism" in his family.[1]
Quotes
| | |
| --- | --- |
| Will: | So, James, you're seeing Memoirs of a Geisha alone, on a Saturday night. No matter what anybody says, I don't think that's sad. |
| James: | I agree. Sad would be showing up dressed as a kimono. |
, 
Von Trapped
References
↑

Von Trapped

↑

I Love L. Gay

↑

The Definition of Marriage
Ad blocker interference detected!
Wikia is a free-to-use site that makes money from advertising. We have a modified experience for viewers using ad blockers

Wikia is not accessible if you've made further modifications. Remove the custom ad blocker rule(s) and the page will load as expected.