Loose Lips Sink Relationships is the 5th episode of the fourth season and 76th overall.
Because of Karen's advise, Grace and Nathan worry that their relationship is in trouble. Jack sets Will up with her boss Dorleen.
Synopsis
We don't do enough Math
After being tested, Grace and Nathan share the number of their sexual partners and find out that although Grace has been with more men, Nathan has had sex much more times than Grace.
After separately consulting with Karen, Grace worries that she and Nathan are not having enough sex and Nathan worries that they need to share something deeper. As Grace chases Nathan around the apartment trying to have sex with him, Will tells them that they should not have taken advise from Karen and their relationship is fine.
Think I might be purdy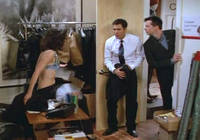 In order to take a night off from his new work at Barneys, Jack sets his boss Dorleen up with Will under false pretenses--she thinks Will is straight and is interested in her; Will thinks she is eyeing him to be a "real people" model for the store.
The plan backfires when Will walks in on Dorleen in her bra, believing he is there to audition. Jack gets demoted to being the hand-cream guy, the "lowest form of life at Barneys".
Cast
Main
Guest
Notes
Cultural references
Media
Quotes
I don't know, Jack. Think I might be purdy. — Will
Thrilled to be here. Love you. Love everything about you.
Thinking about being you for Halloween. — Jack, to his boss Dorleen
Ad blocker interference detected!
Wikia is a free-to-use site that makes money from advertising. We have a modified experience for viewers using ad blockers

Wikia is not accessible if you've made further modifications. Remove the custom ad blocker rule(s) and the page will load as expected.