Love is in the Airplane is the eighth episode of the eighth season and 168th overall.
Synopsis
While en route to London for the weekend, Will and Grace spot Grace's ex-husband Leo on their flight. Will charms a pair of gay flight attendants, who also happen to be dating, so he can smuggle Grace into first class to talk to Leo. Back in New York, Jack tries to reunite Karen and Rosario, but this proves difficult when their stubbornness outweighs his good intentions. Also complicating matters is Karen's new manipulative maid Leni, who is not anxious to give up her comfortable new job.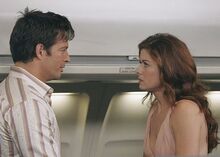 Cast
Main
Guest
Millicent Martin (Leni)
Stephen Spinella (Bret)
Jim Rash (Brent)
Kristina Krofft (Passenger)
James Huang (Male Passenger)
Cultural References
Quotes
Excuse me? Do you have Princess Diaries Part 1? I don't think I'll enjoy Part 2 unless I know how she became a princess. — Leo, to a flight attendant
Don't laugh at your own jokes. It makes you look like a dad. — Grace, to Will
Ad blocker interference detected!
Wikia is a free-to-use site that makes money from advertising. We have a modified experience for viewers using ad blockers

Wikia is not accessible if you've made further modifications. Remove the custom ad blocker rule(s) and the page will load as expected.