Object of My Rejection is the season finale of the first season.
Will finds out that Grace has started going out with Danny again. Karen's maid Rosario is about to be deported so they arrange her and Jack to get married immediately.
Synopsis
Grace goes on a date but would not tell Will the name of the guy so he listens to the answering machine messages and finds out she is going out with her ex-fiance Danny, whom she left at the altar during the pilot. Grace then asks him stay out of it, saying she should make her own decisions.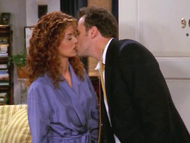 Karen and her maid Rosario visit Will to seek counsel about Rosario's green card expiring soon. They discuss that the easiest way is for her to get married to a US Citizen who is available but is not looking for romantic entanglement, i.e. Jack.
During Jack and Rosario's wedding, Grace gets Will to admit how he still thinks Danny is bad for her. She reveals that she already broke up with Danny and just wanted to make sure Will thinks it is the right decision. After everyone had left, they resolve that they need to "move on" and decide to not live together anymore.
Cast
Main
Guest
Notes
Cultural references
Quotes
Media
Ad blocker interference detected!
Wikia is a free-to-use site that makes money from advertising. We have a modified experience for viewers using ad blockers

Wikia is not accessible if you've made further modifications. Remove the custom ad blocker rule(s) and the page will load as expected.