Overview
The original series of Will & Grace ran for 8 seasons from September 21,1998 to May 18, 2006. In the original series there was a total of 194 episodes, all of which were directed by James Burrows.
The show was created by Max Mutchnick and David Kohan and is set in New York City. The show revolves around the friendship between a straight interior designer, Grace Adler, and gay lawyer, Will Truman. Throughout the series run, Grace lives with Will at different points, which usually causes a rift in their relationship that is quickly resolved. Adding to the chaos are Karen and Jack. Karen being Grace's rich assistant, and Jack being Will's other best friend who helped him when he was struggling with coming out. Both Karen and Jack forge a deep friendship that juxtaposes Will and Grace's friendship throughout the 8 seasons.
Cast
In all 8 seasons the lead characters are:
Megan Mullally as Karen Walker
Beginning in season 3 of the series, Shelley Morrison, who plays Karen's maid, Rosario was added as a main cast member.
Will, Jack, and Karen appear at least once in every episode, Grace is absent from six episodes in season 6 due to Debra Messing's real life pregnancy. The episodes that Grace is missing from are: "Heart Like a Wheelchair", "Nice In White Satan", "I Never Cheered for my Father", "Speechless", and both parts of "I Do. Oh, No, You Didn't".
Series Impact
Since the final episode aired, the sitcom has been credited with helping and improving public opinion of the LGBT community, with former U.S. Vice President Joe Biden commenting that the show "probably did more to educate the American public" on LGBT issues "than almost anything anybody has ever done so far".
In 2014, the Smithsonian Institution added an LGBT history collection to their museum which included items from Will and Grace. The curator Dwight Blocker Bowers stated that the sitcom used "comedy to familiarize a mainstream audience with gay culture" that was "daring and broke ground" in American media.
Notes
The series earned a total of 16 Emmy Awards throughout it's run and received another 83 nominations. All members of the main cast, save for Shelley Morrison, have won an Emmy Award with Megan Mullally snagging two awards for her character, Karen (2000 & 2006).
Seasons DVD Covers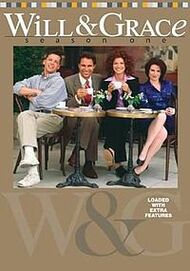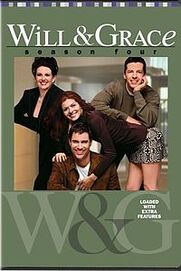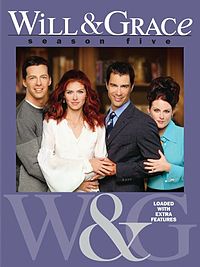 Ad blocker interference detected!
Wikia is a free-to-use site that makes money from advertising. We have a modified experience for viewers using ad blockers

Wikia is not accessible if you've made further modifications. Remove the custom ad blocker rule(s) and the page will load as expected.