Past and Presents is the 2nd episode of the fourth season and 73rd overall.
A bully from Will's past comes back and tortures him at work. Grace gets furious at Karen for giving Nathan a present much more extravagant than hers.
Synopsis
Will Woman
Kevin Wolchek, a bully who used to terrorize Will all through elementary school has started working for Doucette and Stein. Expecting they have matured past it, Will finds his door vandalized by Kevin like he used to do on his locker. He bullies Will later into drafting a contract for his client.
The next day, Jack finds Will had called in sick out of fear. Jack pushes him to fight back "for every loser, geek, weakling, homo, ethnic, fatty, smarty sitting alone under the jungle-gym petrified that they're gonna get beat up for being different."
The next day, Kevin's client reads the contract Will had written and finds out that Will has played with it, writing in insults and ridiculous ideas ultimately humiliating Kevin.
I'm Going To Kick. Your. Ass.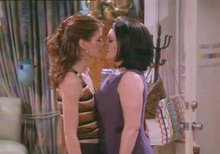 Grace buys a present for Nathan's birthday: a book about motorcycle maintenance because of his penchant for motorcycles. Karen however gives him an actual motorcycle. Shocked and overjoyed, Nathan dances his Happy Dance before putting Grace's gift away to play with his motorcycle. Grace gets upset because of his reaction and confronts Karen.
The next day, Grace buys an expensive underwater watch via "four credit cards, 100,000 frequent-flyer Miles and an application to sell Will's sperm on the internet" to outmatch Karen's gift. Unfortunately, she finds out Nathan hates watches. During dinner, Grace gives up and confesses her insecurity regarding the presents and that all she can give him is her "I love you", to which Nathan dances his Happy Dance again.
Cast
Main
Guest
Walter Addison (D.T. Petersen)
Media
Notes
Karen buys Nathan the recently introduced Ducati Monster S4 muscle bike.
Karen refers to Grace as "Grace Alden". One of the show's producers is Bruce Alden.
Quotes
Little tip for Bodyguard... Someone needs to reunite
him with his estranged brother... Right Guard. — Grace