Rules of Engagement is the 6th episode of the fourth season and 77th overall. In this episode, all the characters are involved in one story line as opposed to pairing off in most episodes.
After rejecting Nathan's marriage proposal during sex, Grace realizes that she does in fact wants to marry him and proposes herself.
Synopsis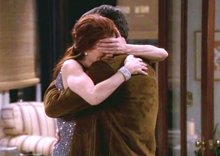 In the middle of having sex, Nathan inadvertently proposes to Grace. She, however finds this tacky and asks Nathan to take it off the table. Upon consulting with Will, Grace realizes that she would have said yes if Nathan had asked "the right way", so Jack, Karen and Will all help out Grace plan a dinner where Nathan can formally propose. To buy Grace time to prepare, Will takes Nathan out to a gay bar and they witness a couple get engaged.
Coming back to the apartment, Grace tries to drop hints so Nathan can propose again. She eventually kneels down and asks Nathan herself but gets surprised when he breaks up with her instead, saying everything should be easier if they are really meant to be together. After Nathan leaves, Will comes in and Grace breaks down in his arms.
Cast
Main
Guest
Media
Notes
Cultural references
Quotes
It's a victimless crime. It's like tax evasion or public indecency. — Karen, On listening on people have sex
| | |
| --- | --- |
| Karen: | Oh, honey, I'm so excited for you. Are you nervous? |
| Grace: | A little. Are you loaded? |
| Karen: | A little. |
It's just not how I ever imagined being proposed to, ok? I'm supposed to be holding a bouquet of wildflowers, not my own ankles! — Grace
| | |
| --- | --- |
| Grace: | I can't believe you did that...like that, while we were doing that. |
| Nathan: | Why? Was it not a happy time for both of us? |
| Grace: | It was a happy time for you. It was on the way to a happy time for me. |
—

After he proposed during sex
What am I doing? I'd have better luck explaining ethics to Angelina and Billy Bob. — Will, Explaining it is wrong to listen to people have sex