Strangers with Candice is the ninth episode of the sixth season and 131st overall.
The four friends dine at a fancy restaurant to take Grace's mind off the troubles on her marriage. During dinner, Karen's frenemy Candice Bergen arrives.
Synopsis
Good morning, vest!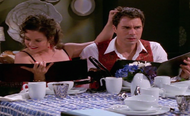 Having returned recently from Cambodia with budding problems on her marriage, Grace tries to unwind with friends at dinner. Will's date flakes out on them so Grace invites a random guy, Alex from the bar to sit with them at their table for five. Will's dapper vest and movie star charm attracts a girl Stephanie, whom he also invites to dine with them.
Things unexpectedly get out too romantic between Will and Stephanie and Grace and Alex during dinner. Seeing the other's atrocious flirting, Grace points out that Will is gay and Will in turn points out she is married so Alex and Stephanie storm off together. Grace and Will lament how they did it just for the attention.
I think Candice Bergen is going to die!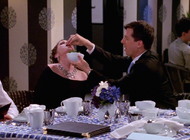 Karen bumps into archenemy-slash-best friend Candice Bergen at the restaurant. She tells Jack how much fun she has been doing pranks on Candice in the past and how she has tricked her back using the same prank.
However, Jack who recently have successfully started to pursue a career in nursing, expresses that pranks may lead to injury and refuses to follow Karen. Later, Karen and Candice prank him by pretending that the latter has swallowed a balloon and needs the Heimlich maneuver.
Cast
Main
Guest
Candice Bergen (Herself)
Tom Everett Scott (Alex)
Kali Rocha (Stephanie)
Oliver Muirhead (Maitre d')
Victoria Hoffman (Waitress)
Kelli Kirkland (Mona)
Tim Lucason (Bartender)
Notes
Title is a play on sitcom Strangers with Candy (1999-2000), alluding to stranger danger.
Candice Bergen was mentioned in the previous episodes: "Women and Children First", "Heart Like a Wheelchair" and "Swimming from Cambodia".
Karen suggests she and Jack knock Candice Bergen out and "put her hand in warm water", a common prank among children to force them to urinate while asleep.
After Candice and Karen reveal their prank, Jack expresses relief, saying he almost gave Candice a tracheotomy, or an incision in the windpipe to help her breathe.
Cultural references
Quotes
Stephanie, we're about to cut the cake. Don't make me wish that bitch a happy birthday alone. — Mona, on her boss' birthday party
| | |
| --- | --- |
| Will: | Listen, guys, I think I'm gonna take off. |
| Grace: | Oh, Will, you look upset. Don't forget to leave your credit card. |
There's two things I've learned in my long career in show business. The first is, don't take yourself too seriously. And the second is, always wear a double layer of underpants when you're doing a bed scene with Jack Nicholson. — Candice Bergen
It's okay, I can take it. The fashion forward have always been ostracized. I'm sure when Gandhi first put on the diaper, there were some sideways glances. Who got the last laugh? That's right, Gandhi. — Will, when Grace makes fun of his vest
Gasp! You met someone! Who was it? Was it someone in just a pair of sleeves and a collar? Did he complete you? — Jack, to Will and his vest
| | |
| --- | --- |
| Jack: | Oh, my god, Karen, isn't that Candice Bergen, your archenemy-slash-best-friend? |
| Karen: | Oh, my god. This is a nightmare-slash-delightful. |
| | |
| --- | --- |
| Karen: | Ah, look at poor vesty trying to join in the fun. |
| Will: | Gimme a break. I got stood up tonight. |
| Karen: | Did you, Mae Vest? |
| Karen: | I hope you didn't in-vest too much in him. |
| Karen: | Vest. |
—

Will and his vest
Ugh, I'm at this awful birthday party for my boss. She yelled at me for an hour for putting regular milk in her coffee. And now, she's licking whip cream off a male stripper. Hello? Are you allergic to dairy or not? — Stephanie
As a student nurse, I have now seen the darker side of practical jokes. Just last week we had two cases of extreme chafing from victims of surprise wedgies. — Jack