The Big Vent is the ninth episode of the first season.
Synopsis
Will and Grace become hooked on a real-life soap opera unfolding in their neighbors' apartment when they begin eavesdropping through the new heating vent in their floor. As Will and Grace live vicariously through the marital infidelities of the downstairs couple, Jack feels neglected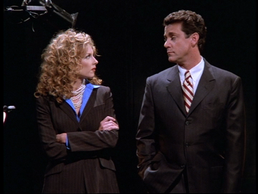 and enlists Karen's help in staging a play that drives the message home to his two best friends. 
Cast
Main
Guest
Corinne Bohrer (Judy)
T.F. Sullivan (Thomas)
Robert Curtis Brown ("Will" actor)
Jensen Daggett ("Grace" actor)
Titus Napoleon (Roger Waka-lana-huki)
Notes
Quotes
Ad blocker interference detected!
Wikia is a free-to-use site that makes money from advertising. We have a modified experience for viewers using ad blockers

Wikia is not accessible if you've made further modifications. Remove the custom ad blocker rule(s) and the page will load as expected.