Yours, Mine or Ours is the 16th episode of the first season of Will and Grace.
Synopsis
Stunned to find they have a 'date' with the same guy, Will and Grace compete for the affections of a handsome, charming new neighbor at dinner, and even Jack's finely-tuned gaydar can't pick up his preference. Meanwhile, Karen contemplates firing her driver and in a twist of irony asks Grace to role-play firing an incompetent employee.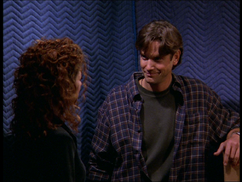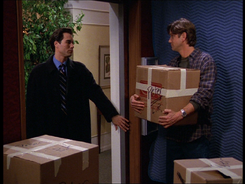 Cast
Main
Guest
Earl Schuman (Driver)
Mario Schugel (Handsome Guy)
Notes
Cultural References
The song Will sings with Jack in his office is "Can't Help Lovin' Dat Man" from the musical Showboat.
Jack mentions that "they haven't sung a showtune since Jimmy Swaggart got caught with a hooker", referring to the series of sex scandals involving the evangelical pastor in the 1980s.
Quotes
| | |
| --- | --- |
| Peter: | Is everyone is this building good-looking? |
| Will: | Oh, no. We make the ugly ones take the stairs. |
—

meeting in the elevator
Ad blocker interference detected!
Wikia is a free-to-use site that makes money from advertising. We have a modified experience for viewers using ad blockers

Wikia is not accessible if you've made further modifications. Remove the custom ad blocker rule(s) and the page will load as expected.